With nearly seven billion local searches monthly, being listed on the first page is more important than ever, especially for franchises and multi-location businesses. Why pay for this when you can get it for free with a powerful combination of local SEO and content marketing? Providing relevant, local content that solves customers' problems not only improves their buying experiences, it improves your visibility in searches.
Optimize for Both Local and Mobile Search
Start by figuring out the words your audience is searching for. You can do this by going to the search engines and performing a search for keywords related to your business. Scroll to the bottom and note the related searches.
Or use a keyword research tool like Keyword Tool.
Then, think of words that describe your geographic location, the areas you serve and where your customers are from. Combine these words and work them into your copy.
Now, go a step further and optimize for mobile. Searches with "near me" or "nearby" doubled in 2015, with 80% coming from mobile. In these instances, users aren't just gathering information; they're making decisions. In fact, four out of five mobile searches turn into a purchase, and nearly three out of four searches take customers to a brick-and-mortar business. Capitalize on the "near me" trend by making your website mobile friendly, keeping your information up to date and getting as many positive reviews as possible.
Localize Your Content
Develop a content strategy for each individual location. While this requires additional effort up front, it positions you to strategically target buyers searching for your products and services locally.
Give each location a unique page with its own URL. Avoid duplicate content by including information exclusive to each location such as your address, phone number, email, a map. Always have a well-crafted About Us page and Homepage that include relevant keywords, your address, and engaging content.
Think like a customer. Create content based of their wants and needs. Listen to them on social media. Answer their questions. Announce local news or events. Ask their opinions. Not only will more potential customers find you before your competitors when they perform a search, they'll be more likely to buy from you because you provide content relevant to them.
Use Social Media
Content from local Facebook pages outperforms big brand national pages. Create a page for each location and build a fanbase for each of them. Publicize local events and offer discounts and rewards exclusive to Facebook users. Encourage fans to like, review and check in to your location. The more engagement a page receives, the more likely it is to show in Facebook's search results.
Furthermore, be active on Twitter, YouTube, Google+, Instagram and any other platform that makes sense for your business. Always include your location-specific URL because Google uses that information to improve its search listings, which improves your ranking.
A really powerful way to use social media to engage your followers is to post local news stories. When you do, you show you care about the community and are aware of what's going on. Suddenly, you're not just another faceless entity.
Get Listed in Local Directories
Being listed in local directories will get you found quickly. A local business listing is simply a profile that includes your business name, address, phone number, website and any other necessary details. There are thousands of online directories where you can create a free listing.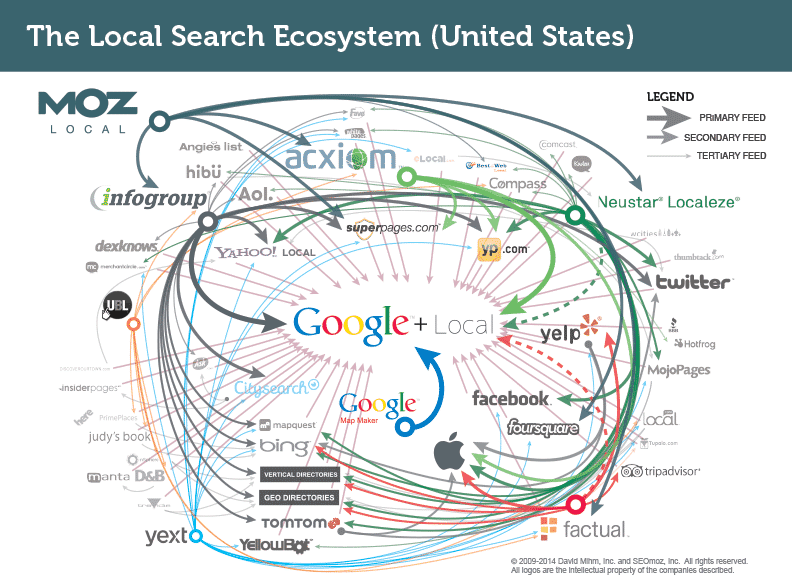 You can just pick one, but the more listings you have, the greater your visibility and chance of being found. Not to mention, you'll rank higher in local searches.
The key to performing well with each of these profiles is to provide accurate, comprehensive information about your business. The more information you provide, the better. Be sure to link link back to your location-specific URL. Provide consistent information across all local directories. Google will see the same information and place more trust in your business, which will make it rank higher in searches.
Collect Customer Reviews
Customers trust reviews from other customers over ads any day. In fact, 72% of buyers trust reviews as much as personal recommendations, and 77% of online shoppers read reviews to make a buying decision. Ask your customers to share their experiences. Having positive reviews next to your company name encourages people to click. It also influences how your business is displayed in searches, especially on sites where visitors can sort listings by positive ratings. Just look at this study by Moz, placing reviews as one of the top 8 ranking signals for local results.
Reviews can be a double-edged sword, though. Negative reviews are inevitable during the lifetime of a business. However, if you have enough positive reviews, they will outweigh a few random bad ones. Another way to combat negative reviews is to address them. This shows Google you're listening to your customers.
Bonus Tip: Keep Customers Engaged
This is one of the most basic marketing strategies. After all, marketing is all about building a community of raving customers who promote your business. Word-of-mouth marketing is powerful and increases lead generation, which means more customers. Encourage your customers to promote your business by giving them incentives through a referral program.
Bottom Line
When your business has multiple locations, you're competing with more websites so you need to stand out and appeal to your local audience. The key to a solid local SEO strategy is to solve your customers' problems and build their trust in you, which you can do through content marketing. For franchises and multi-location businesses, using location-specific SEO and content marketing will help you be where your customers are and build a powerful strategy to rank and promote your local business and get it found.