So you've begun selling franchises and once the t's are crossed and the i's are dotted it's time to get to work and help market your franchisees! And you can't discuss marketing without talking about social media.
Most businesses need social media accounts, but what about franchisees? Do they each really need their own account or is it better to control everything corporately?
We've gone over the pros and cons of allowing franchisees to have individual social media accounts and the things that you should consider when making the decision.
Pros
Location
With mobile technology's ability to pinpoint a customer's exact location, franchisees have the opportunity to have their own social media profiles, with their own physical address. This gives them the ability to go live, check-in with other local businesses and interact with their customers on a hyper local level. Having their own accounts will definitely help with location-based targeting, which platforms such as Google and Facebook will recognize when a local address is present.
It also opens opportunities for paid advertising avenues such as targeted Facebook ads and creating local geofilters through Snapchat.
Individualization with Content
You can really individualize and create targeted content when each business has an individual account. For example, the large real estate franchise, RE/MAX, allows franchisees to have individual accounts with the agent's face and name so they can share information specifically about the areas in which they are selling homes, but it is also also clear that they are a RE/MAX agent.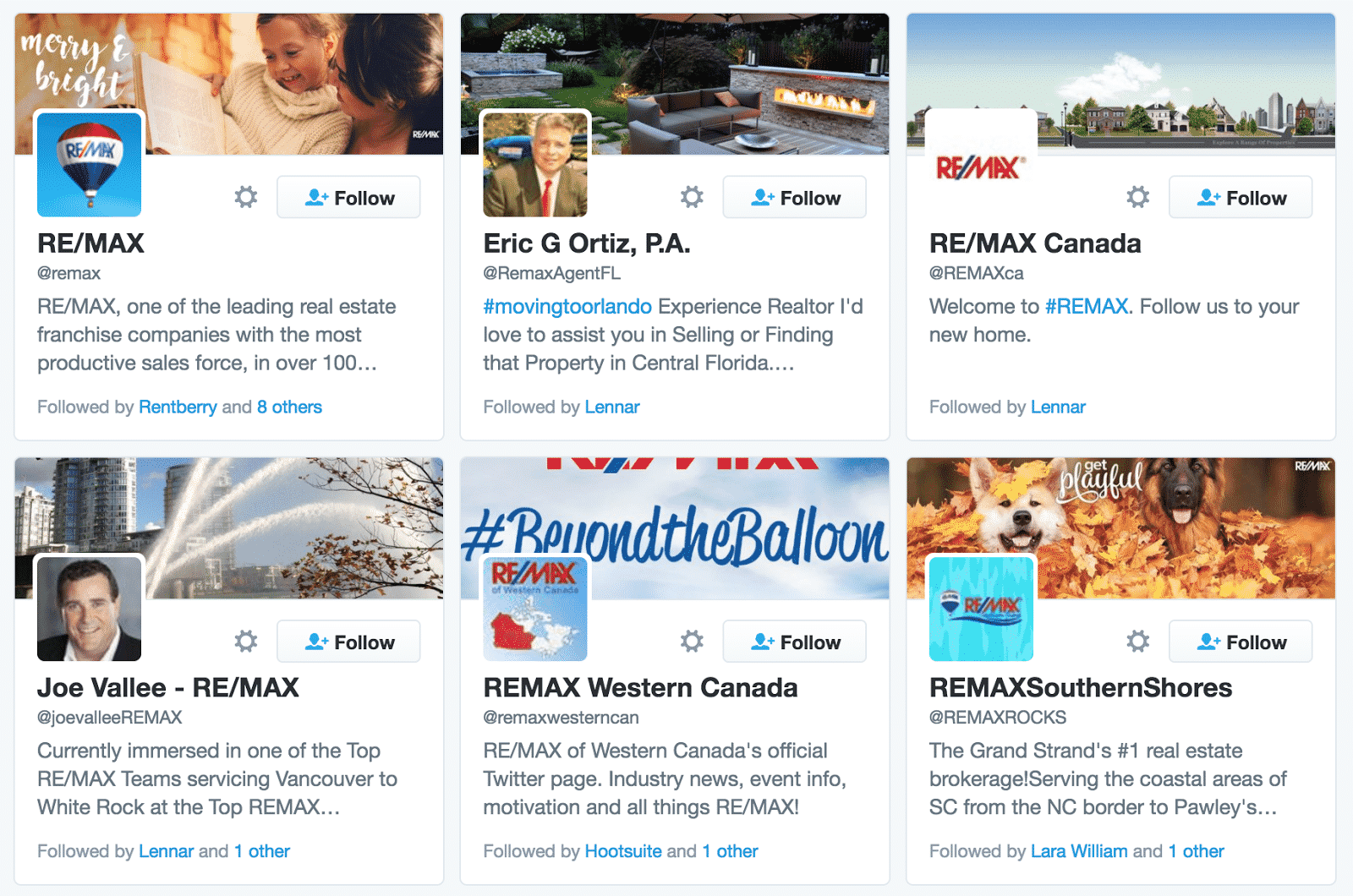 Community Investment
The community your franchisees operate in is more likely to follow a business, support it and interact with it when they know the people running the accounts. Especially when it allows the franchisees to run contests or promote their location directly from the local community. For example, Board and Brush Mufreesboro was able to run the the contest below to prompt contestants to visit their art studio.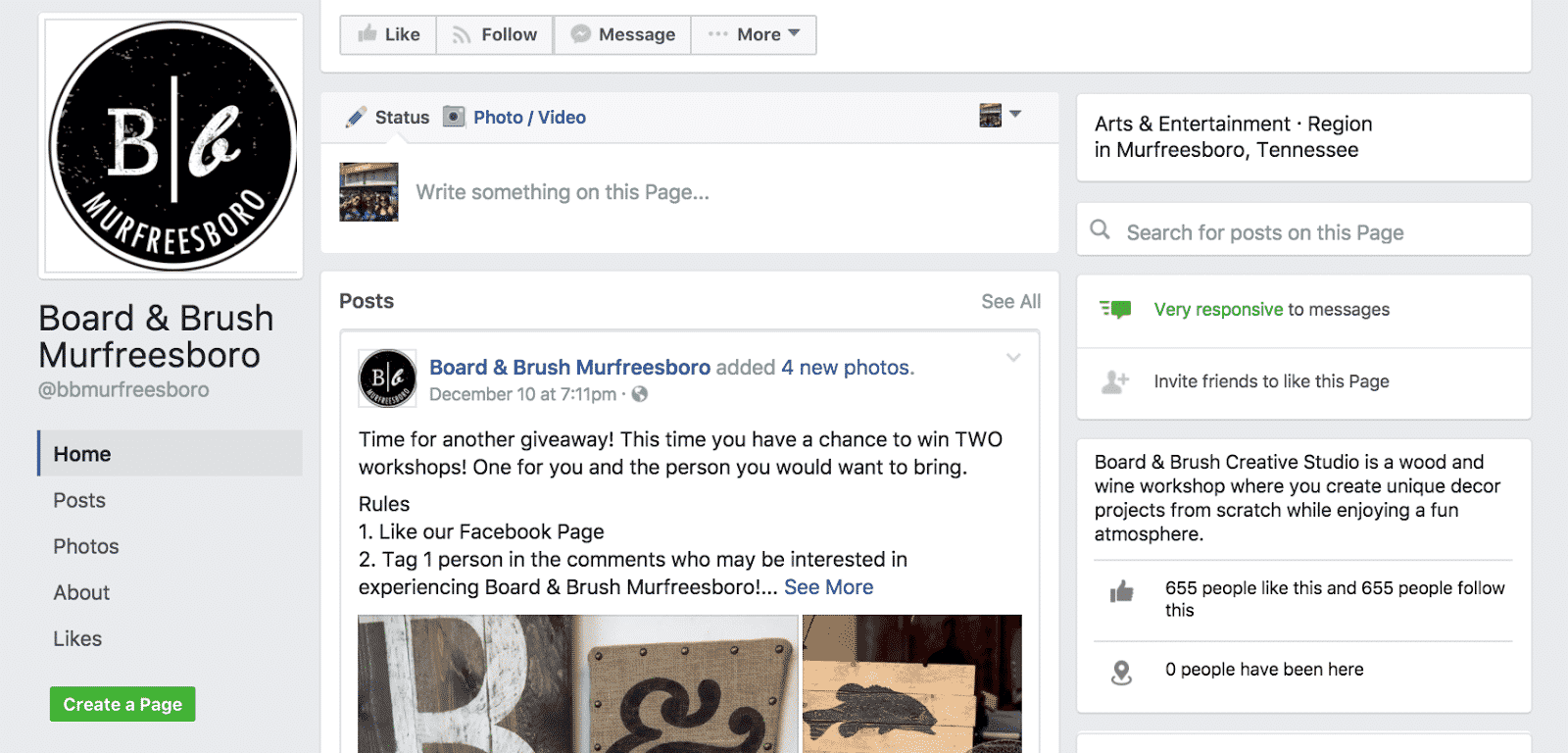 You can create additional engagement with the community and employees through a local page as well, such as what Hickory Tavern of North Myrtle Beach did. This franchisee encouraged their employees to share the page and tag their friends which built a lot of local attention on the grand opening and built their page following quickly.
Cons
Lack of Controlling the Message
When you allow franchisees to have social media accounts you also give them partial control of your franchise's public image. What happens if one of your franchisee's sends out a racially charged and offensive tweet? The media latches on that YOUR brand did it, not that franchisee.
Controlling your franchise's message from small things, such as consistent branding, voice and proper grammar are all things that have room for errors as more social media accounts are created. Your franchise should create clear social media guidelines.
For example, the below photo illustrates that Dunkin' Donuts allows individual franchises to have accounts and this specific account is for a location in New York with a small following of 209 people. As you can see a regular post was made by the location and then received a negative comment about that location, but from there the situation spread and people began to comment on Dunkin' Donuts as a whole. It received 59 shares and not one comment from Dunkin' Donuts. The corporate Facebook account would have been better prepared to do damage control, but instead this franchisee page didn't even acknowledge it which reflects upon the brand as a whole.
Expenses
Allowing franchisees to have social media accounts and monitoring those accounts come with a certain level of expenses. In order to protect the brand, you will need to continuously monitor the franchisee's content to make sure it's up to brand standards. Monitoring many accounts will add expenses to your overall operating costs which is something to consider and plan for.
Training
Every person that purchases your franchise is not guaranteed to be a social media wizard, or even knowledgeable while some will be pros at it already. You are guaranteed to not have a consistent knowledge base going in. So, as a franchisor you will need to train your owners if you expect them to be effective and accountable.
Location
While location is a pro, it can also be a con because it may not matter depending on the specific business. Thankfully many platform, such as Facebook Locations, have created tools to make it easier to manage multiple locations from one page and franchise marketers love this tool.
If the your franchisees' locations can easily be managed with this, it actually removes the stress of maintaining a Facebook page from your franchisees.
What Factors Should You Consider?
Now that we've weighed some pros and cons it's time to go over the main factors you should consider when making the decision to allow franchisees to run their own social media accounts.
Is there variance in your demographics?
Demographics matter in business, but if you look at all your franchises do they all have the same demographics? Are they all urban or rural or a mix of both? Do they all have the same socioeconomic status? Do they have the same age range? All of these factors determine your content and your franchisees. If your customers are drastically different, it will be difficult to cover all your customer types from a single social media account.
How is your marketing structured?
How will it be maintained? Is head office going to monitor it? Do you train franchisees and create content? You'll need to think about, if at a corporate level you have the staff to provide training, support, feedback and analysis for your franchisees.
Also, if you allow your franchisees to run their own specials and discounts, one of the best ways is to share them via social media. In order to not promote the special or discount across the entire company, your franchisee will need their own social media accounts.
What is your business?
Is it regulated or have significant legal obligations to uphold? Many times strict industries such as the healthcare, legal and financial industries have regulations that must be walked with a fine line. It could be too risky to give control to every franchisee if it's a heavily regulated industry..
Your business could also be personality based such a chiropractic or realty. Allow franchisees their own social media accounts will allow them to showcase their personalities and personal expertise to customers. In the below example, chiropractic care franchise, AlignLife, creates content that is medically based with articles on health topics while allowing their franchisees to have profiles that highlight the individual doctors. The corporate account also provides high quality approved content that each franchisee can share on their own page.
If the business is consistent in all locations, such as Taco Bell and their highly-complimented corporate Twitter account it can make sense to utilize one, main account for all your franchises and allow them the benefit of your great content. But, if you're a franchise that allows your owners to create a brand on their own, then individual social media accounts should be allowed.  Such as the below example, Omni Vacations is a Cruise Planners franchisee but they are not identified as Cruise Planners.
What is the purpose of your corporate page?
If your corporate page is to sell more franchises and highlight the benefits, such as the Vanguard Cleaning Systems page below, then you're not helping franchisees gain local business. In this case, it would be wise to allow them to have their own profiles since they are trying to attract local customers rather than more franchisees. With such drastically different goals, different strategies and profiles should be used to keep content consistent and targeted.
At the end of the day each franchise will have many factors that determine if you should allow franchisees to have their own social media accounts. But before thousands of franchisees have bought in, it is a wise decision to have a plan in place to either provide content through corporate accounts or be prepared to train franchisees in order to establish brand standards and operating procedures to hold them accountable.