How to Optimize Google My Business
Download: Google My Business Optimization Guide
Are you confused and lost when it comes to optimizing your Google My Business (GMB) profile? Do you wish that someone would give you step by step instructions on how to do it? Thankfully, we've put together a comprehensive 3000 word guide that will walk you through the lates GMB best practices and how to implement them.
We cover key activities including:
What Google My Business (GMB) is and why it is important

How to verify your listing

Why you should optimize your Google My Business profile
How to optimize it based on Google and SEO best practices


How to create on-going positive engagement to drive consistent leads
What is Google My Business?
Google My Business, or GMB for short, is a free listing service provided by Google that allows you to manage how your local business's information appears on Google Search and Maps.
By having a GMB profile, your local business is able to submit information including your name, address, phone number, website, hours and much more directly to Google. As a result, it helps Google better understand how and where and what your business should be showing up for when someone searches a keyword in Google.
If you're looking to rank locally then your Google My Business profile is going to play a critical part in the process.
When it comes to where you'll appear thank your Google My Business profile, there are 2 key locations:
Google Search
Your GMB profile will be eligible to appear within Google's search engine results page whenever someone searches for a keyword based on two factors:
If the keyword that the person search has your company name in it
If the keyword that a person search has local intent behind
Depending on which of these two factors are met will dictate how your GMB location is shown on Google.
Branded Searches
When it comes to brand based searches, which are searches that contain your company's name in them, your GMB profile and business information will appear on the right hand side of the search results in something called the Local Knowledge Panel.
You can see an example of this in the screenshot below: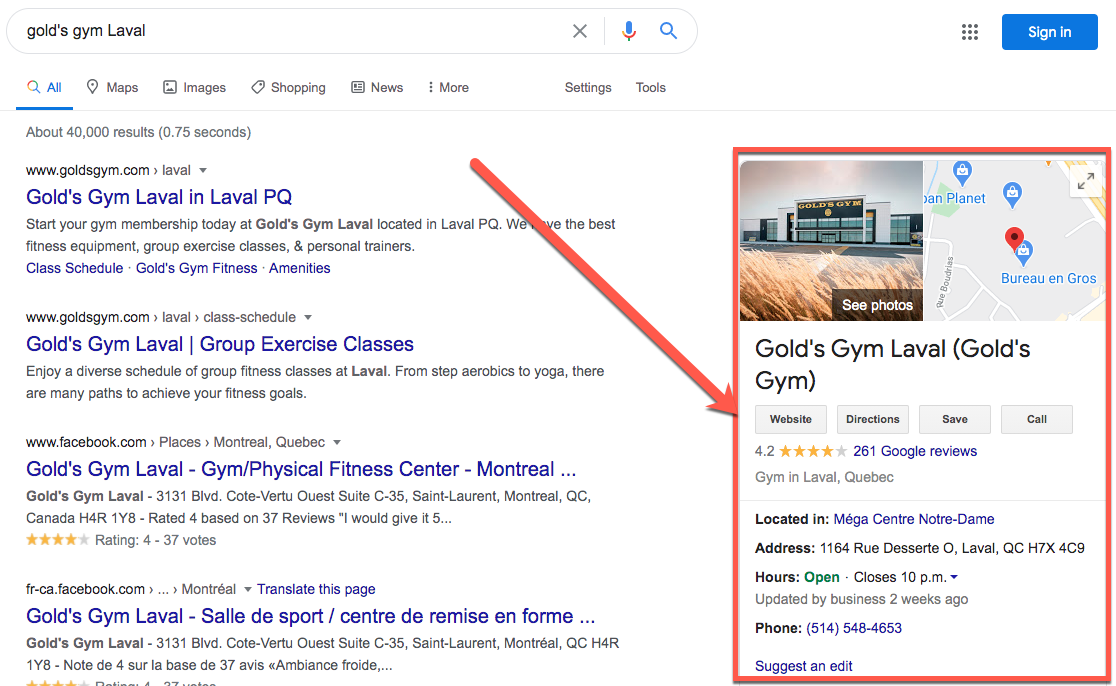 Local Intent Searches
The second criteria, local intent, is when someone searches for something with the intent of finding a local business or service. An example of this could be searching for something like "emergency plumber", "burgers near me" or "accountant New York".
When these types of keywords are searched, your GMB profile is eligible to appear in something called the map pack or local pack which you can see an example of here:
Google Maps
Similarly on Google Maps, your Google My Business listing will appear whenever a searcher uses either your brand name or a keyword that is related to your business and that you've optimized towards.
You can see an example of what that would look like for a local intent search here:
Why is Google My Business Important?
Your GMB profile is important because it allows you to explicitly tell Google information about your business and grants you the ability to appear in local results on Google Search and Google Maps as we just discussed.
The importance of your GMB profile for driving new local customers can be clearly seen in a recent study finding that 44% of searchers click on a local pack results and another one by Google found that 88% of searches for local businesses on a mobile device either call or visit the business within 24 hours.
Ultimately, what this means is that if you want to drive new local customers to your business then you need to have and optimize your Google My Business profile.
How to Verify Google My Business
The first step in this process is ensuring that you have a GMB listing and that it is verified. In order to make sure that a business is real and that you actually own the business, Google takes several precautions during the verification process.
The first step is to log into your Google My Business profile by going here. Once you're logged in, you'll be able to see all of the GMB profiles that you have access to as you can see in the screenshot below:
You should also see a blue button called Add Location which will kick off the process to add your location to your Google My Business account. Once the Add Locations button is clicked and you select the Add Single Location dropdown, you'll then be presented with page similar to the one that you see below:
In the "Type your business name" field, enter the name of your business. As you start to type, you'll see several business names appear and select your's should you see it appear.
If you don't see your business appear, click on the "create a business with this name" option. From there you'll be taken through an onboarding process to confirm your:
Company name
Business category
Whether or not you allow you people to come to your location or office
Your Address
If you sever customers outside of your location
Your phone number and website address
And more
Once you've completed all of this information, you'll then be prompted to verify your address through a postcard which you can see below:
Using the address that you provided, Google will then mail you a postcard that will have a verification code on it that you should receive in 2-3 weeks. Once you receive the postcard, enter in the verification code into your Google My Business profile.
How to Optimize Google My Business
Now that you are verified and have ownership of your GMB listing, the next step is to optimize it for the areas that you serve and the keywords that you're trying to rank for.
The optimizations that you need to implement can be divided into two buckets.
Foundational Optimizations – These are optimizations that are foundational for Google and searchers to understand important facts about your business. Foundational optimizations are typically done on an ad-hoc basis.
Engagement Optimizations These optimizations are all about driving on-going and positive engagement on your Google My Business profile.
Foundational Optimizations
Business Information
Arguably the most important GMB optimization you can make is ensuring that all of your business's information on your profile is accurate. This information ranges from your name, address and location all the way down to unique attributes such as if your business is women led and how to make an appointment.
You can see all of the various business information fields that GMB offers in the screenshot below along with explanations on each of them.
Business Name
The business name field is where you provide your business name that is either your doing business as name or the name found on your incorporation documents.
Though you may be tempted to spam your GMB profile by inserting the keywords you want to rank for into your business name DO NOT. Google has outlined a very strict policy that explicitly says not to include the following in your GMB business name:
Marketing taglines (e.g. Combat Plumbing, America's Most Top Rated Plumber)
Store codes (e.g. Express Gas – 951)
Trademark/registration signs (e.g. Alpha Electric)
Full capitalized words or unnecessary spaces (e.g. Bill's PEST CONTROL)
Business hours (e.g. Tom's Towing Open 24 hours)
Special characters (e.g. Elite Credit LLC)
Services or products (e.g. Zavala & Associates – Personal Injury Lawyer)
Location information (e.g. Sleepy Nights Motel near Miami Airport)
Containment information (e.g. Everywhere ATM in Schitt's Creek Centre Mall)
Category
The categories that you select for your business also heavily weigh which keywords you show up for as it helps inform Google on the type of business you are and the services that you provide. If your business falls into several categories, you are in luck as Google allows you to set primary and secondary categories.
Primary Category – The most important business category for your business
Additional Categories – The secondary business categories that you want your GMB listing to appear for.
How to choose a GMB category
Now if you're confused as to how to choose which one to select as your primary category and additional categories, I like the use the following thought process:
The primary business category that you set for on your GMB profile should be chosen based on two factors:
How related it is to the products and services that your business offers
The priority of driving new business for that specific category
The remaining categories that relate to your business should be set as the secondary categories.
Here is a quick example of what I mean…
Let's say that you are a law firm that offers family law, personal injury and immigration law services. If you want to drive business for your family law legal services then your main category would be family lawyer so your additional categories would be immigration lawyer, personal injury lawyer and law firm as seen in the screenshot below:
Address
For your GMB listing's address, you should use the address that your business is registered under or the location at which you do business. Again, Google has very strict guidelines as to what you can or cannot use as an address for your listing. I should explicitly state that you CANNOT use P.O. boxes or virtual mailboxes as an address for your profile.
Service Area Businesses
If you are a service area business, meaning you travel to your customers rather than your customers visiting you, then you would go about things a bit differently. In your case, you have the ability to hide your address and instead select specific cities, states/provinces or even countries that you service.
You can see an example in this screenshot:
Hours
Hours are simply the hours that your business is open on a day to day basis throughout the week.
As you can see from the screenshot above, you can see that Google also gives you the ability to set multiple hour blocks per day.
As an example, if you are open on Mondays, Wednesday and Fridays from 8:00 AM to 12:00 PM and 5:00 PM to 10:00 PM then you can configure the hours in your GMB to have just that.
Phone Number
The phone number that you have on your Google My Business profile is going to be one of the if not the main way that people will get in touch with you. Needless to say, it is crucial that your phone number is up to date.
As you can see in the below screenshot, GMB allows you to have multiple phone numbers for a single location. That way if there are multiple numbers or extensions that people can reach your business at, you can list them here.
Google My Business & Call Tracking Numbers
One thing that I personally do and recommend that all of the companies that I work with do is use a tracking number as your primary GMB phone number and then your main business phone number as your secondary one.
The reason why I recommend this is it allows you to understand on a caller by caller basis where phone calls are coming from and how many leads your GMB profile is driving for your business.
If you're wondering whether or not this will hurt your citations, there is no need to fear! As Google has become smart enough to understand that your secondary GMB phone number
Website
Depending on how many locations you have will dictate which page you should use as your website field on your GMB listing.
If you have 1-3 locations, then you should be using your homepage for your website field.
If you have more than 3 locations, then you should have the individual pages dedicated to each of your locations. You can see an explanation of how to structure your site for multiple locations here.
Appointment URL
If your business takes appointments for customers then the appointment URL is for you. You can either enter a single URL or multiple ones that should go to page(s) on your site that allows a visitor or customer to schedule an appointment with your business.
Attributes
The attributes part of Google My Business allows you to highlight unique aspects of your business to help you stand out from your competitors.
Below you can see a screenshot of attributes that are available for a restaurant's GMB profile. All you need to do is select the items that apply to your business and they will be automatically applied to your profiel.
Description
This section on your GMB profile allows you to write a unique description about your business and why it is unique.
Your description should be a maximum of 750 characters and highlight what you offer, what makes you unique and any other information that you think potential customers should know. One thing to keep in mind is as you are writing your description, do NOT include any URLs in it as they will not be clickable.
Advanced Information
The advanced information portion of your GMB profile allows you to add store codes and labels to your location. If you're a single location business then these can be ignored and left blank.
If you run multiple businesses then they can be used to stay organized as you start to store GMB performance data and manage profiles.
A store code is a single unique identifier for a specific location.
Labels on the other hand will allow you to group locations together. A location can have up to 10 labels which should also overlap with other GMB lists that you have.
An example of using labels could be grouping GMB listings based on the types of services that locations offer. So if two of your locations offer plumbing while the remainder don't, then those two locations could have plumbing as a label.
Bookings
If your business requires people to book you (restaurants, hotels, health & wellness providers, hair stylists, etc..) then this is a feature that you should be taking advantage of. It allows people to directly make a booking with you on your Google My Business profile which helps significantly reduce the amount of friction from becoming a customer.
You can see an example of how it appears on your public facing Google My Business profile below for a hotel as the check availability button:
<
Products & Services
The products and services section of your Google My Business profile is just as it sounds. You are able to feature the various products or services that your business offers directly on your GMB profile.
You can navigate to both the products and services part of your Google My Business profile by using the navigation on the left hand side of the website:
On the services side, Google provides you with a predefined list of services that you can select from that will be featured on your profile. This list is based on the primary and secondary categories that you selected for your business.
The products that appear on your GMB profile are all based on what you enter. Once you're ready to start adding your products to your profile, you'll need to add the following information for each product:
Product pictures
Product name
Product category
Price (either fixed or range based)
Product description
A website URL for that product
Once you've added several products and categories, they will start to appear in your GMB listing within search results. You can see an example of how this appears to searchers below:
Engagement Optimizations
Now that you've optimized your GMB profile with foundational information the next steps in the process is creating continuous engagement. This ongoing engagement shows searchers that your business is active while sending positive local ranking signals to Google.
Photos/Videos/Media
Providing searchers with photos and videos of your business and the services helps provide them with a better understanding of who you are, what you do, how you do it along with showing that you are a real and legitimate company.
When it comes to media they can either be uploaded by the owner(s) or by customers. To jump start the photos and videos on your GMB profile, I recommend that you initially upload a batch of 5-10 and then each month publish at least 1 new photo or video to your profile.
In addition to photos to the general photos that appear on your GMB profile. There are also two specialty types that allow you to help feature your business more prominently.
Google My Business logo
You are allowed to upload your logo to your GMB listing to help customers better understand and recognize your business. Keep in mind that the dimensions for your GMB logo should be 720 x 720 px and between 10 KB and 5 MB in size.
Google My Business Cover Logo
In addition to your logo, you can upload a cover photo for your GMB listing. This cover photo will display on your listing and should be focused on educating the viewer on what your business does and enticing them to visit your site or call your business.
You can see an example of where your cover photo appears in this screenshot:
As for dimensions make sure that your cover photo is 720 pixels wide by 720 pixels tall and between 10 KB and 5 MB in size.
Reviews
Not only do reviews influence a customer purchasing behaviour as outlined by Google's study finding that 42% of internet users in the U.S. list "reviews from other customers" as a feature that would most increase their likelihood of buying a product, reviews also play an important role in local rankings.
With this in mind, it's important that you gather reviews on your GMB profile consistently. When it comes to helping rankings there are a few things that you need to do to get the most out of your reviews:
Make sure that you're getting them on a consistent basis. No sudden spikes of reviews
You keep an average of 4-5 stars
The reviews themselves include keywords that you're trying to rank for
You respond to reviews in a friendly, helpful and timely manner
Thankfully, there are several tools out there such as GatherUp, BirdEye and Podium that helps you streamline the process of soliciting, monitoring and responding to reviews.
What I typically recommend is incorporating asking for reviews into the sales and service process. For example, once you've provided a service ask people to leave you a review on Google outlining what service you provided and what they liked about it.
Depending on your business, you can even use one of the tools I mentioned to automatically send out review requests once a customer has bought from you.
Questions & Answers
With the roll out of the questions and answer feature, searchers are now able to ask questions that are directly associated with your Google My Business profile.
The great part about this is that it helps you better understand and interact with your potential customers. The dangerous part is that anyone can answer these questions.
With this in mind, I recommend doing the following things:
Seed Frequently Asked Questions
Start off by creating a library of frequently asked questions about your business. You should be sourcing these from people who directly interact with your customers. From there, work on creating useful and constructive answers to each of them.
Once you've developed both the questions and answers, go to your business's GMB knowledge panel by searching your business name and then asking question question and then immediately responding with the answer:
Once you've done so, at least 3 of your coworkers like both the question that you asked along with your answer. Doing so makes sure that these questions are shown first and sometimes directly within your knowledge panel such as this:
Stay Alert for New Questions
Once you've seeded your GMB profile's questions, you now need to stay on top of any new questions that may be asked. Thankfully, Google My Business has an app for both Android and iOS that will instantly notify you once a new one appears.
Messaging
One of the more recent updates that Google has launched for businesses is the release of messaging on GMB profiles. Similar to Facebook's Page message feature, this allows searchers to directly message you to ask about your business and the products/services that you offer.
To enable messaging, be sure to download the Google My Business app on your phone and keep an eye out for new notifications.
Google Posts
With the launch of Google Posts, you are now able to publish updates to your profile similar to posts on Facebook or tweets on Twitter. These will appear within search results like so:
With the posts that you create they should be categorized into the following categories:
Offers – Use this post type to promote any sales or offers that you have at your business that people can take advantage of
Updates – Used to provide information about the business and any recent updates that have happened
Events – If you host events, then you can promote your events using this post type
Products – This post type can be used to promote certain products that you want to put a priority on
In addition to the post types, there are a few things that you should keep in mind when using Google Posts:
Use a range of media include photos and videos for your posts
Tag them using UTM parameters in order to track how much traffic you receive from each post
Posts "disappear" from your profile after 7 days so make sure you're posting at least once per week
Need help optimizing your GMB profile?
Learn more about our Google My Business optimization service to make sure that your profile is following best practices and driving continuous positive engagement