Behind the Scenes Insights from a Top Franchise Lawyer
About the episode
Join Jordan Choo, the host of The Franchise Marketing Podcast, with his guest Clark Harrop, as they talk about what it's like to be a franchise lawyer. Clark is working as a partner and a business lawyer at Dale & Lessmann LLP, a full service business law firm, with legal expertise that includes franchise law. He shares his insights, strategies, experiences working with franchisees, and more. If you're interested in knowing more about how the franchisor-franchisee relationship works, listen to the episode now!
In this episode, you'll learn:
What does a franchise lawyer do to help with the relationship of the franchisors and franchisees?

A strong frame franchise system is characterized by having good communication and collaboration.

Miscommunication can be as dangerous as having no communication. 

When buying a franchise, there's always a risk of failure, even if the brand is well-known.

The best franchises are the ones that provide the right information so that a franchisee can make an informed decision.

It's better to be honest with the franchisees; they'll have more realistic expectations of what they're getting into.

Most businesses that have pivoted before the pandemic got worse are surviving.

The email application is so helpful to almost everyone in the world!

The Checklist Manifesto by Atul Gawande is all about getting things right and creating something that's scalable.
~
About Clark Harrop:
Clark is a partner and business lawyer in Dale & Lessmann LLP's Corporate and Commercial group, based in Toronto, Ontario. He joined the firm after spending close to two decades in-house with two of the most successful and best-known franchise systems in Canada (and globally), Tim Hortons and McDonald's. He has currently been working for 1 year and 6 months for Dale & Lessmann LLP.
In counselling these two iconic brands, Clark demonstrated creativity and a drive for success. With a focus on franchising and licensing, he is a strong advocate for taking a strategic approach to legal matters; with a keen focus on achieving business outcomes and helping his clients drive growth. Clark is known for having a global viewpoint, with extensive experience leading cross-border and international initiatives for his clients.
Clark thrives when working with clients who are similarly passionate, ambitious and values-led. He believes that lawyers should be strategic partners, helping their clients achieve their growth ambitions. He demonstrates this by gaining a deep understanding of his client's business and proactively bringing his unique legal insight to business opportunities and challenges.
Clark is well-known for being a passionate advocate for the franchise business model. As a member of the board of directors of the Canadian Franchise Association, and as a member of the executive of the Ontario Bar Association's franchise law section, Clark works tirelessly to promote the highest standards of franchising.
Clark is known as a thought-leader in the franchising industry. His dedication to sharing his knowledge of franchising and business has been recognized by his peers. He is the co-author of a chapter in Fundamentals of Franchising, Canada (2nd edition) published by the American Bar Association. He is a frequent speaker on legal and business issues at seminars and conferences and regularly delivers guest lectures to students at the University of Toronto, University of Western Ontario, York University and Ryerson University.
~
You can find Clark Harrop on…
Email: [email protected] 
LinkedIn: https://www.linkedin.com/in/clarkharrop
Twitter: https://twitter.com/ClarkHarrop
Website: https://www.dalelessmann.com
Contact: 416-369-3816
—
Connect with Jordan Choo!
LinkedIn https://www.linkedin.com/in/jordanchoo/
Podcast Website https://kogneta.com/franchise-marketing-podcast/
Website http://jordanchoo.com/
Twitter https://twitter.com/JordanChoo
Don't miss another episode
Get the inside scoop on how other franchise leaders are creating and managing explosive growth.​​
Learn more about the guest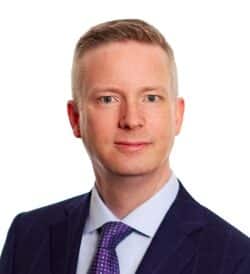 Clark Harrop
Partner at Dale & Lessmann LLP
Fun facts
Favorite app/tool that they can't live without
Where can people find out more about you and your company?